Alt Empordà and Baix Empordà refer to the geographic territory of the DO Empordà wine region. In this ultimate guide to the Baix Emporda, we will share recommendations on where to stay in the Baix Emporda, and what wineries to visit. It's possible to visit the Baix Emporda for a Costa Brava holiday, or even as a day trip from Barcelona or a day trip from Girona.
What is the Emporda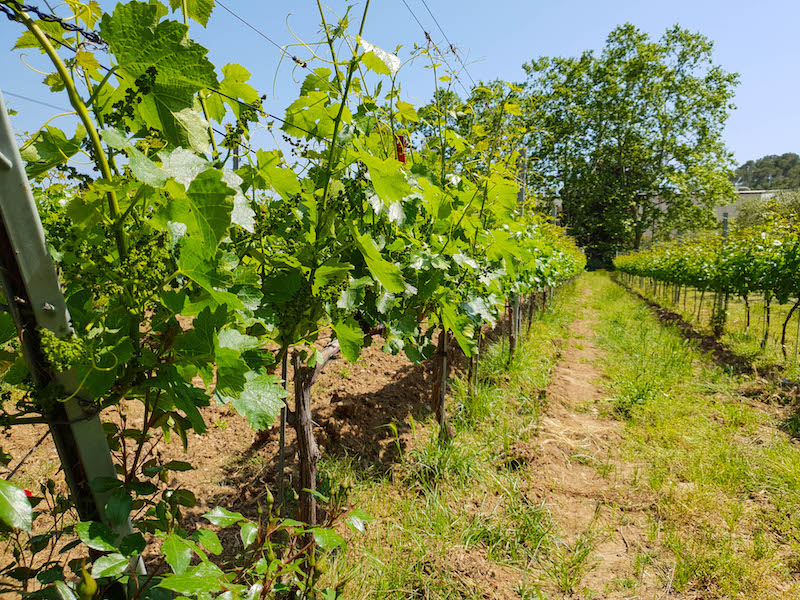 Alt Empordà (or, high Empordà) is along the coast, to the north, starting with Portbou, almost to the French border. Alt Empordà meets Baix Empordà (or, lower Empordà), along the coast, around L'Escala. The area of Baix Empordà starts just south of L'Escala, and runs to just south of Sant Feliu de Guíxols.
Whereas Alt Empordà is rugged, and the perfect destination for the wine tourist, Baix Empordà offers fewer wineries, but more developed tourism. There are more villages and towns within the stretch between L'Escala and Tossa de Mar to explore. It's possible to hop around, a few nights in several towns. Or, choose one for a week-long stay and take day trips to explore the little beaches, hidden coves, wineries, and Michelin Star restaurants.
Beaches And Towns In The Emporda
When looking at a good map, there seem to be about a hundred beaches, or platges, along this stretch of the Costa Brava coast. Some of the beaches are merely coves that require a boat to see. Many of them are quaint and beautiful. The most popular towns to visit, from north to south, are L'Estartit, Begur, Tamariu, Llafranc, Calella de Palafrugell, Palamós, and Sant Feliu de Guíxols.
Larger towns, like Palamós, are year-round towns, whereas smaller ones, such as Tamariu are seasonal and virtually shut down in cold weather. All are pretty full during July and August, when travelers from nearby European countries, and from Barcelona, descend on the beaches. The real charm of these locations is best experienced in the spring or autumn.
Baix Emporda Wineries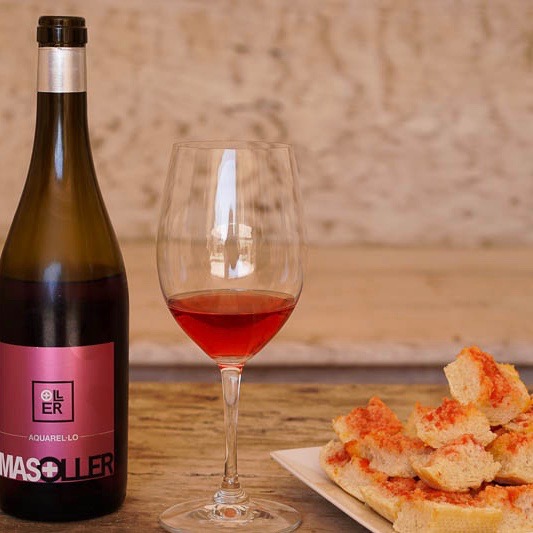 Although the Alt Empordà contains many more wineries, Baix Empordà offers some great stops, more accessible to Girona and Barcelona. Wineries include Celler Brugarol (Bell-Lloc), Celler Can Sais, Celler Mas Eugeni, Clos D'Agon, Mas Oller, Celler d'en Marc, and Sota els Àngels.
Get more recommendations on Costa Brava hotels here
Where to Stay in Baix Emporda – Country Hotels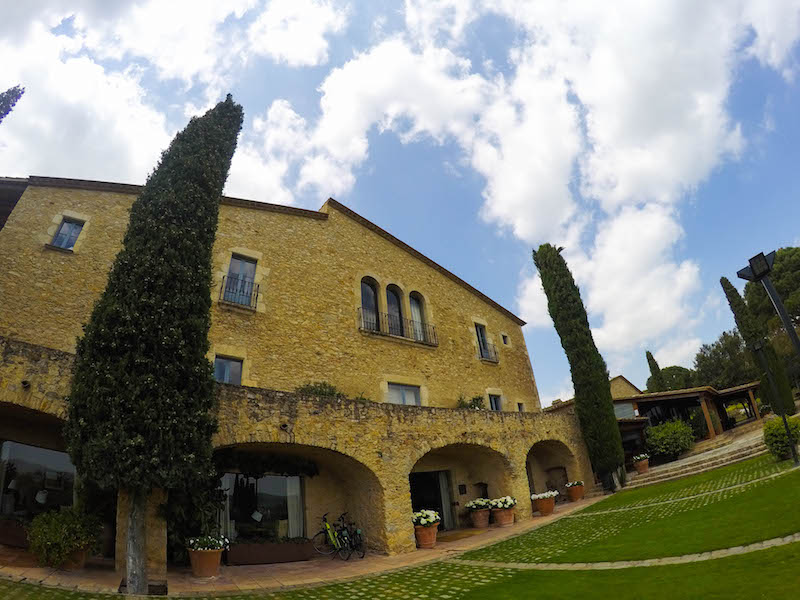 The best way to explore the Emporda wine region is to stay at one of the many country houses and hotels in the area. Here are our favorites. 
Es Portal In Pals
Es Portal in Pals is a "gourmet boutique" hotel away from the beach and away from the hilltop center of town. All rooms are set inside a restored stone house, which offers loads of charm with modern amenities. The hotel also offers the Es Portal restaurant, led by Chef Joan Carles Sánchez.
Rooms start at €125 a night. Check rates here.
Hostal Barris In Pals
Hostal Barris in Pals: Also set away from the beach, but at the base of the village, is Hostal Barris, run by the same family that runs Vicus restaurant, which shares the space. Originally the building housed the town cinema, but both the hotel and restaurant have been impeccably restored. Rooms start at €60 a night and include parking. Check rates here.
Mas de Torrent In Torrent
Mas de Torrent in Torrent: A modern restoration of an 18th Century Catalan farmhouse, Mas de Torrent offers a lovely gastronomic hotel and spa. Set in the Empordà countryside between Pals and Palafrugell, Mas de Torrent is a luxury retreat for food and wine lovers. The property includes 38 rooms, with some surrounded by gardens, some with private pools, and one eco-sustainable suite.
Rooms start at €310 a night. Check rates here.
Finca Bello Lloc in Vall-llobrega
Finca Bell Lloc by Celler Brugarol in Vall-llobrega: One of the most architecturally unique and contemporary wine cellars, matched with a traditional Catalan farmhouse make Finca Bell Lloc stand out from the rest. Set inland, but still with views to the sea in the distance, it is a retreat first and foremost. They offer romantic getaways and "disconnecting getaways," which fit its location in the forests. Rooms are individually designed and named after common Catalan grape varieties.
Rooms start at €140 a night or a three-bedroom private house starts at €350 a night. Check rates here.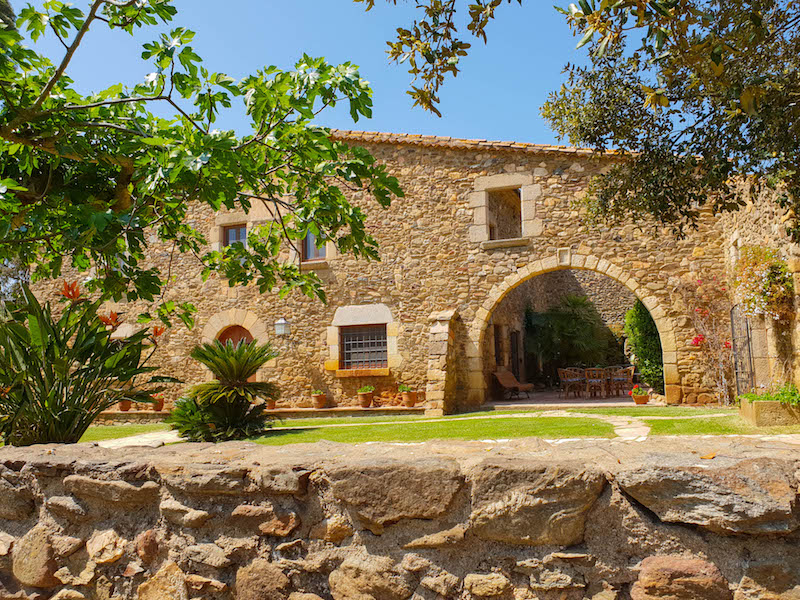 Can Marc In Palamos
Mas Can Pagès at El Celler d'en Marc in Palamós was opened by two Belgians with a passion for wine moved to Empordà for a change of pace. They became one of the newest DO Empordà wineries when the land, as Marc says, pulled at their hearts. The modern nature of the winery is offset by the painstaking restoration of the historic masia, a farmhouse dating to around 1320.
Marc and Lut restored the masia to a very high standard while incorporating traditional Catalan furniture and details. The casa rural is supported by fruits and vegetables from their own garden. There are a pool and an outdoor grill they use in the summer for wine dinners.
Rooms from €135 a night. Check rates here. 
Here are more recommendations on boutique hotels in Costa Brava. 
Get The Best Rates On Emporda Hotels Here
Where to Stay in Baix Emporda – Hotels on the Coast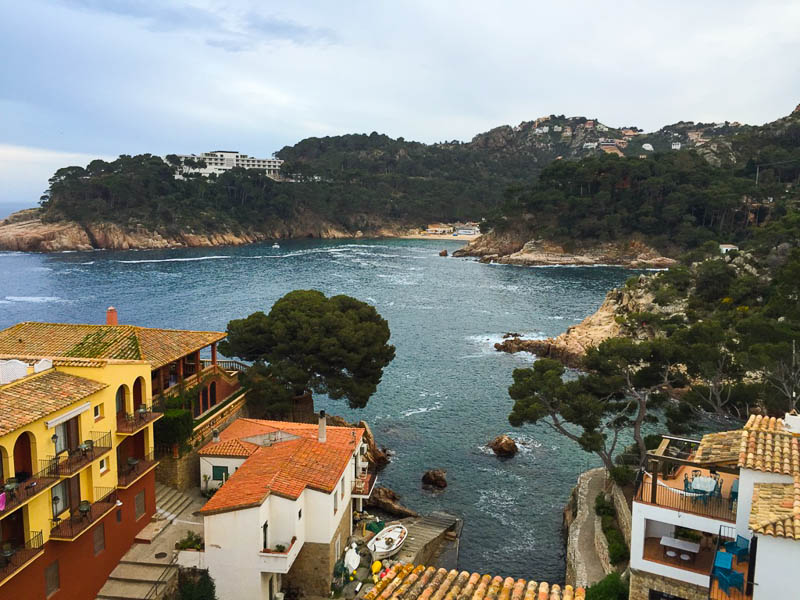 Here are our recommended Costa Brava Hotels along the coast. These hotels are within the Emporda wine region or make visiting the wineries easy.
Hotel Aigua Blava in Begur
Hotel Aigua Blava in Aiguablava is set inside a cove, on the cliffs outside of Begur, in Aiguablava. Rooms offer balconies with stunning views, or a few rooms are set practically on the petite beach nestled in the cove. That means it's possible to open a bottle of wine on a little terrace while watching the water lap the beach.
Guests enjoy a buffet breakfast on the terrace overlooking the sea. And Chef Lluís offers some unique menus at their restaurant, inspired by the high gastronomy of the region.
Rooms start at €130 Euros. It's possible to book rooms with breakfast included, half board, or full board, as the hotel is a little remote. Check rates here.
Hotel Tamariu In Tamairu
Hotel Tamariu in Tamariu is set on the main promenade in Tamariu, you can't get much closer to the beach. The family-run hotel started as a fisherman's tavern and expanded over the years to include contemporary seafront rooms and a quality restaurant downstairs.
Rooms without a view start at €110. They are closed during the winter months. Check rates here.
Casamar In Llafranc
Casamar in Llafranc is a family-run boutique hotel that is part of Chef Quim Casellas Michelin Star restaurant of the same name. The hotel is decorated in the same contemporary style as the restaurant, and it is possible to book a room with a dining package. The hotel is closed during the winter months.
Rooms start at €110, with some rooms enjoying a stunning view over the sea. Check rates here.
Mas Tapiolas In Santa Cristina d'Aro
Mas Tapiolas in Santa Cristina d'Aro is another spa hotel that is part of the Sallés Hotel group, Mas Tapiolas offers a little bit of luxury in the middle of nature, set inland from Calonge. Packages focus on romance and gastronomy, as well as catering towards families.
Rooms start at €110 a night. They also offer nature suites with private pools and jacuzzi tubs. Check rates here.
Hotel Trias In Palamos
Hotel Trias in Palamós embraces its location, close to one of the largest fishing ports in Spain, with a well-executed nautical theme. They also offer a cocktail bar, and a pool overlooking the main strip, and the port in the distance.
Rooms start at €120, many with sea views. Check rates here.
Salles Hotel & Spa in Platja d'Aro
Sallés Hotel & SPA – Cala del Pi in Platja d'Aro is nestled within Cala del Pi Bay, the Sallés Hotel offers a spa and an outdoor pool with unrivaled views of the cove and coast. Chef Enric Herce's creative cuisine at Rosa dels Vents makes the hotel a destination within a destination.
Rooms start at €160 a night. They offer gastronomy and romance packages, as well as a sea exploration that includes a sailboat excursion. Check rates here.
*This post contains compensated links. Find more info in my DISCLAIMER.
Get The Best Rates On Emporda Hotels Here
Get The best rates on costa brava hotels