Almost every accommodation option in the Costa Brava can be considered "boutique" in that there are few international hotel chains operating in the region. But, there are a handful of properties that are a bit more unique, either by history, architecture, or service. These can be considered boutique hotels. In this post, we share our recommendations for the best boutique hotels in Costa Brava Spain.
*This post contains compensated links. Find more info in my DISCLAIMER.
As residents of the Costa Brava who have written a lot over the years about traveling in the region, we've been fortunate to explore some of the best boutique and luxury hotels in the Costa Brava.
Both along the gorgeous coast line of Costa Brava beaches as well as in the wine country regions of Alt Emporda and Baix Emporda, there are loads of options for travelers looking for something unique.
Here we recommend some of the best hotels in Costa Brava and Girona. They range in price from as little as €80 a night to several hundred Euros a night. I've organized our recommendations roughly from north to south, with options along the coast as well as in land.
Get The Best Rates On Costa Brava Hotels Here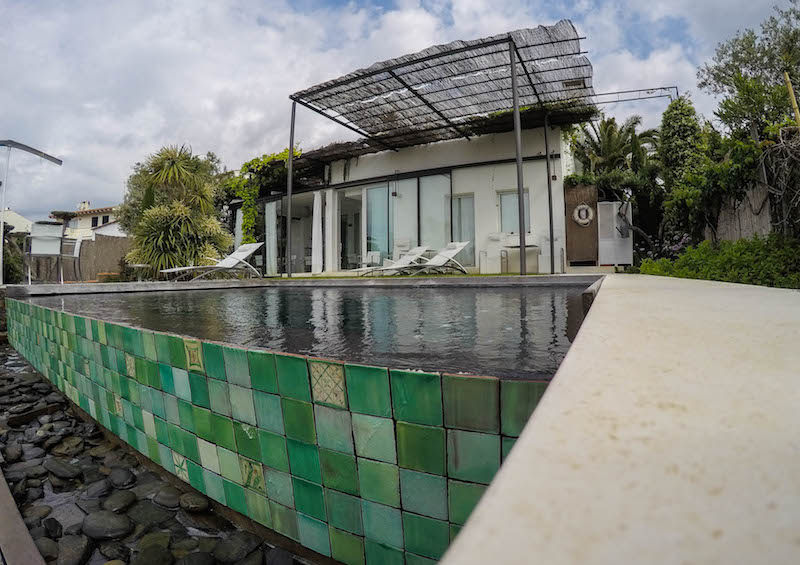 Boutique Hotel & Spa Calma Blanca – Cadaques
An intimate boutique hotel that features seven individually appointed rooms, Hotel Calma Blanca is an oasis in the heart of Cadaques. Situated on the hillside with breathtaking views of the surrounding countryside and Mediterranean Sea, the hotel is only a two minute walk from the Salvador Dali's House Museum.
With only seven rooms, it's more of an exclusive retreat, giving more of a villa feel, with some rooms offering sea views and private outdoor pools. It's also possible to rent a little Italian Ape to explore the surrounding area.
Hotel Calma Blanca features both a heated outdoor pool and indoor spa. Rooms come fully equipped with free Wi-Fi, air-conditioning, flat-screen TV, and iPad. Each room includes a private balcony and private seating area. Free private parking on-site is available. Breakfast is available as an add-on.
Rates From €475 in the low season, €675 in the summer high season. Book here.
Check For Rates Here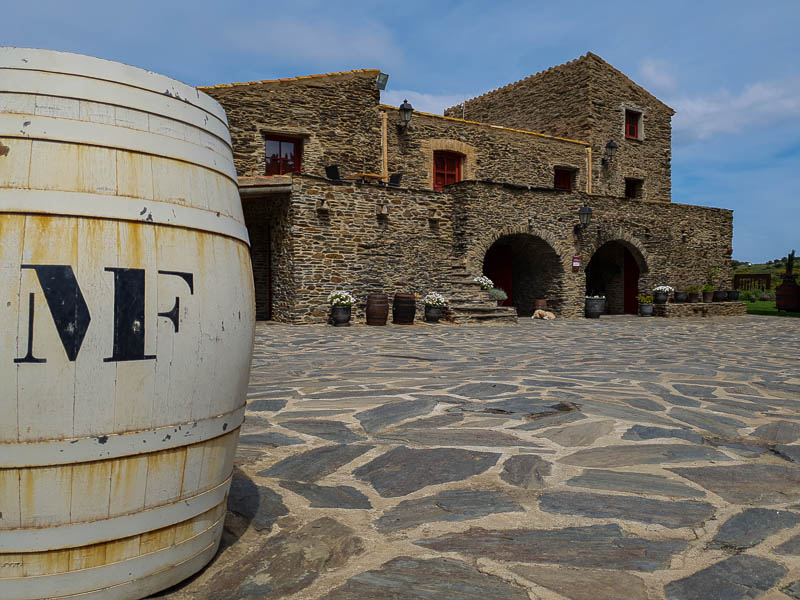 Sa Perafita at Marti Faixo – Cadaques
Located in the middle of Cap de Creus Nature Reserve and surrounded by vineyards, Sa Perafita is a charming 14th-century building located a 10 minutes drive from Cadaqués.
The hotel features standard rooms, junior and full suites, each equipped with air-conditioning, flat-screen TV and free Wifi. The hotel offers wine tasting sessions of its home-made Emporda wines. Private parking is available on site at no cost.
When it comes to unique accommodation in Cadaques, Sa Perafita fits the bill. Although outside of the village center, the property is more like a bed and breakfast in Cadaques and a great way to spend a few nights in a wine hotel. It also makes it easier to explore the rest of the Costa Brava.
Rooms start at €150 a night including full breakfast. Book here.
See our full review of Marti Faixo here.
Check For Rates Here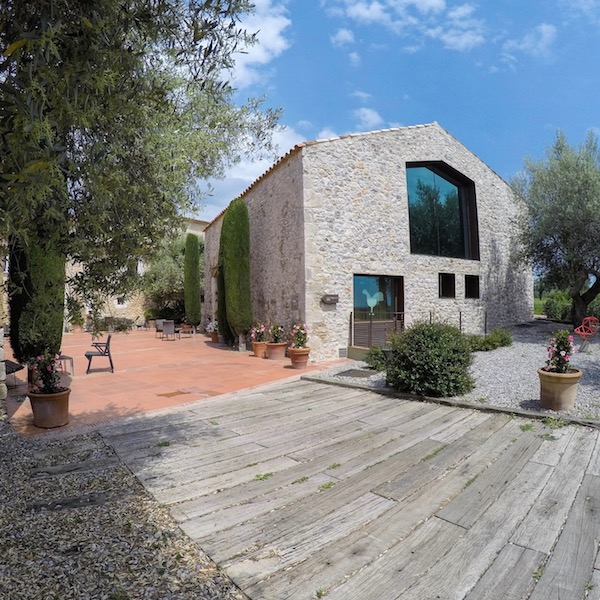 Mas Falgarona In

Avinyonet de Puigventós
Mas Falgarona Hotel Boutique & Spa in Avinyonet de Puigventós is set inside a farmhouse from the 15th Century. The current owner is a Catalan family from Figueres, who renovated the property and its details to a high standard. The attention to detail doesn't stop at the rooms. The spa is located in an old renovated barn, which once houses the animals. Now, it is a space for tranquility and relaxation.
There is a renewed focus on gastronomy at Mas Falgarona. They focus on KM Zero dining, with ecological produce from their own garden, with meat from Girona, and fish from Roses.
Rooms from €140. Check rates here.
Check For Rates Here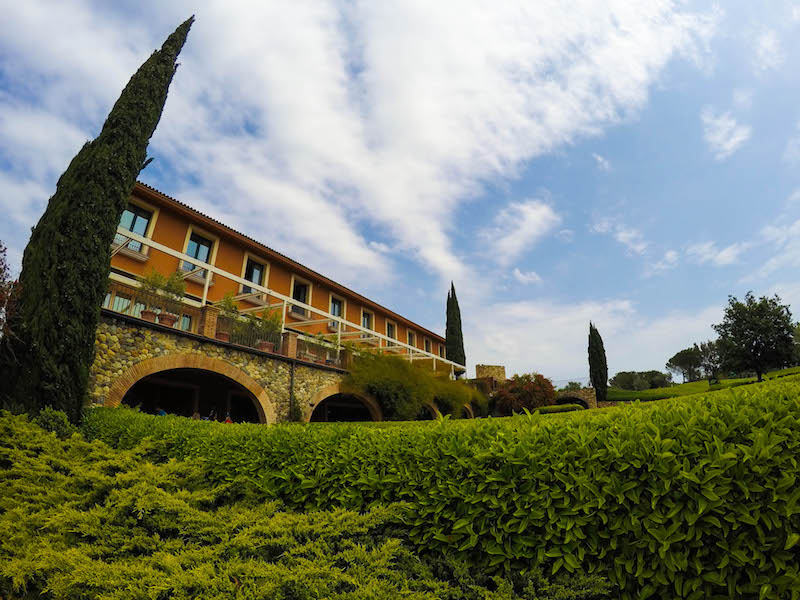 Hotel Peralada In Peralada
Hotel Peralada in Peralada is in the center of Alt Empordà, both geographically and figuratively. Peralada has it all, from contemporary luxury accommodations to Michelin Star cuisine, and even a casino. They offer wellness and wine-spa treatments and host a golf resort as well.
In the summer, the Castell de Peralada also offers a series of musical performances under the stars. And, to top it off, they have one of the largest wineries in the area, offer tastings, and are in the process of completely renovating their winery into an architecturally stunning space.
Rooms start at €175. They offer packages as well, which include dining, spa treatments, and golf. Check rates here.
Check For Rates Here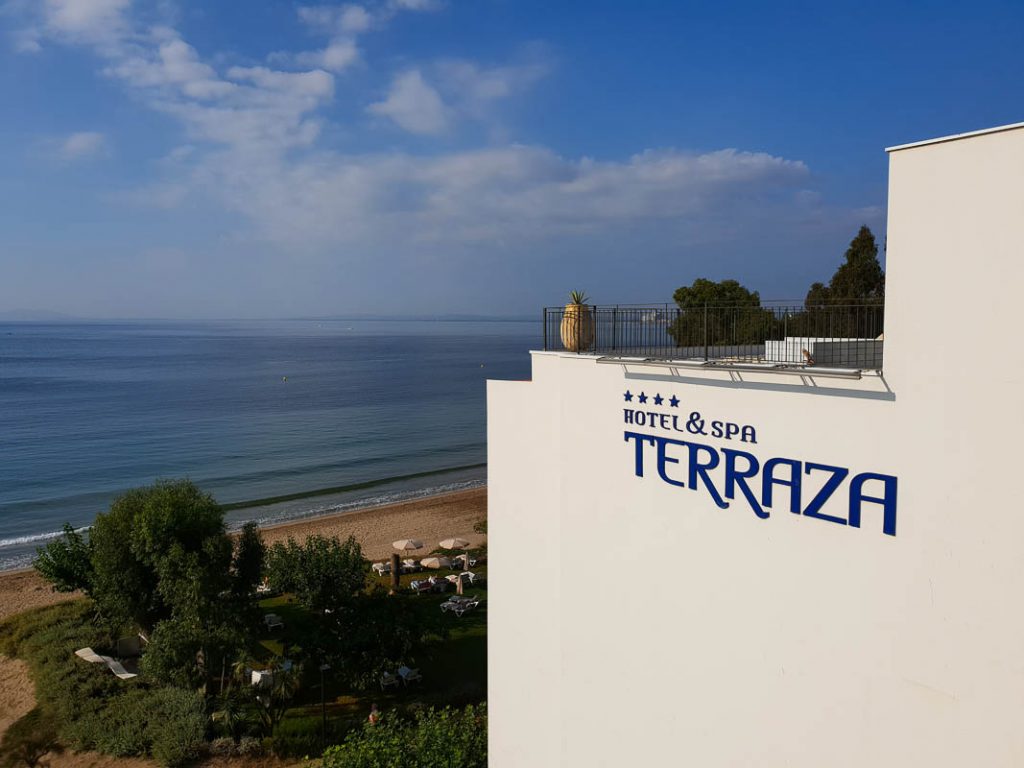 Hotel & Spa Terraza Roses Spain
A family run hotel situated on the Bay of Roses since 1935 Hotel Terraza aims to surpass expectations and service for their guests. For eighty years the family has been dedicated to its guests and the town of Roses, seeking to provide nothing but the high quality of service. Set steps from the beach, Hotel Terraza has direct access to the miles long promenade ringing the Bay of Roses.
The hotel features 81 rooms and suites, including over 60 with water views. Smartly decorated and bright, the rooms include free Wi-Fi access, air conditioning, satellite TV and minibars, as well as balconies or terraces. Around the property, guests can enjoy two pools, including an indoor pool with hot tub on the rooftop. Hotel Terraza's spa features a hammam, sauna, several unique spa treatments.
On the culinary front, the hotel has two restaurants. Traditional Catalan cuisine made with local produce is served in the Cuina d'en Norat Restaurant. Bim's, the cafeteria-tapas bar offers a more casual environment with an outdoor terrace. Cocktail Terraza is the Mediterranean-style cocktail bar mixing up delicious cocktails poolside.
Avenida de Rhode, 34 Roses. Book here.
Check For Rates Here
Boutique Hotels in Central Costa Brava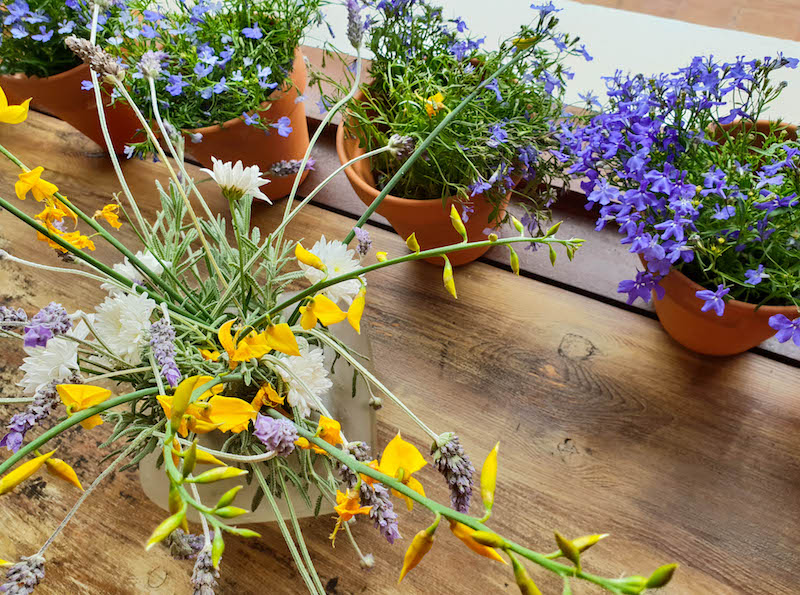 Hostal Spa Eumpuries – Empuries
Hostal Spa Empúries L'Escala is surrounded by the Greek ruins of Empúries, the Hostal Spa Empúries is a retreat within a retreat. The location of Hostal Spa Empúries is unrivaled. Surrounded by nature and the sea, where the Romans first touched down in what is now the architectural site of Ruins d'Empúries.
The original hotel dates to 1907 to support the archaeologists who were first excavating the land. From this historic past, Hostal Spa Empúries is now at the technologic forefront of sustainability and ecology.
The restaurant, Villa Teresita, also focuses on sustainability being one of the initial supporters of Project Sepia, a program in L'Escala to work on sustainable sepia fishing practices. The Villa Teresita kitchen staff works in partnership with local farmers to supply the best ingredients to support the menu. Approximately 80% of the hotel's raw ingredients could be considered Zero KM coming primarily from Catalonia and Spain.
Rooms start at €105 a night. Book here.
Check For Rates Here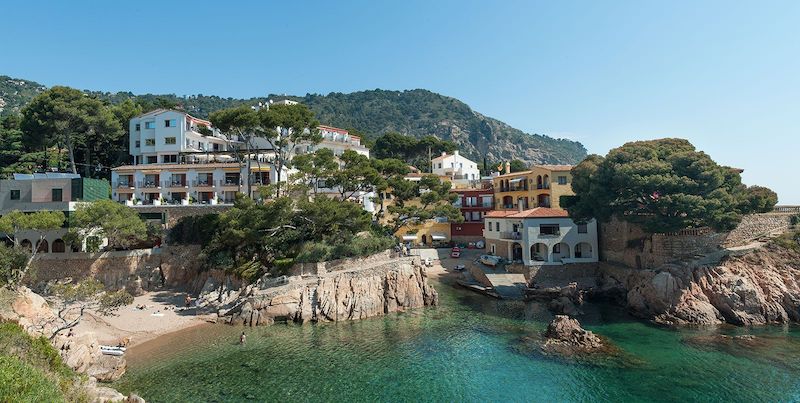 Hotel Aiguablava – Begur
Hotel Aiguablava started welcoming guests to this quiet part of the Costa Brava in the 1930s. A family-run property situated in the Aiguablava Bay, the hotel is surrounded by coves and inlets creating a picturesque setting on the shores of the Mediterranean sea. The hotel is located outside of the village of Begur, making it a true Costa Brava holiday retreat.
Hotel Aiguablava has a large outdoor pool, tennis court, and childrens' play area, making it the perfect place for families. Their restaurant offers classic Catalan cuisine with spectacular panoramic sea views. Guest can choose between a number of room types including family and junior suites.
Many of the rooms feature a sea view. All rooms come with air conditioning, satellite TV and Wifi. Free breakfast buffet and private parking are also included.
Hotel Details
Playa de Fornells s/n, 17255 Begur
Rooms at Hotel Aigua Blava start at €120. Book here.
Check For Rates Here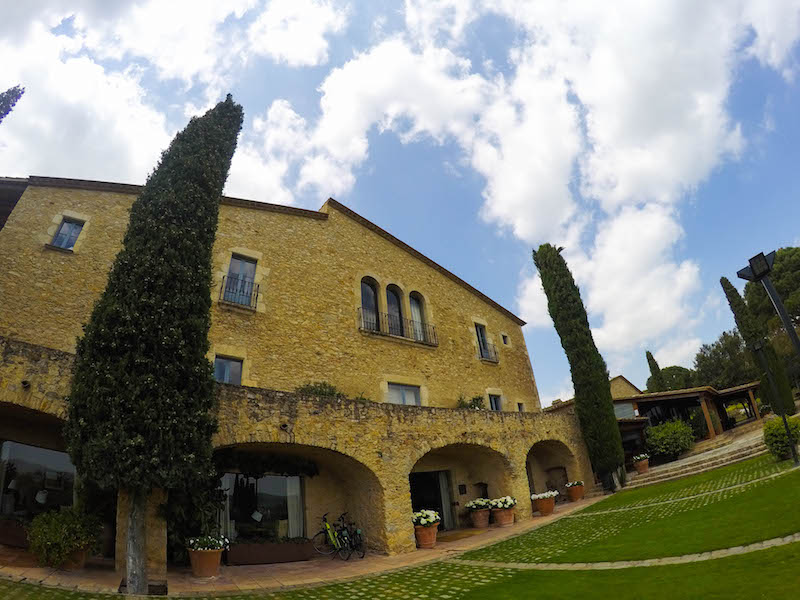 Mas de Torrent In Torrent – Pals
In the 1960s, Jani Figueras purchased a small Catalan farmhouse, to share with his wife and his children, which he happily did over the years. Eventually, an opportunity arose to purchase the aging 18th Century farmhouse adjacent to the property, and thus began the history of Mas de Torrent.
The grounds surrounding Mas de Torrent in Torrent are meant to feel like a small Catalan town, including an herb garden, walking paths, and single story villas, like petit village homes, some with private pools. They also host a single eco-lodge, which is a wooden house that is fully sustainable and natural. Second story rooms offer views over the medieval village of Pals and of the sea in the distance.
Mas de Torrent hosts a fine dining restaurant with a Catalan chef offering his take on traditional Catalan cuisine.
Set in the Empordà countryside between Pals and Palafrugell, Mas de Torrent is a luxury retreat for food and wine lovers. The property includes 38 rooms, with some surrounded by gardens, some with private pools, and one eco-sustainable suite.
Rooms start at €310 a night. Check rates here.
Check For Rates Here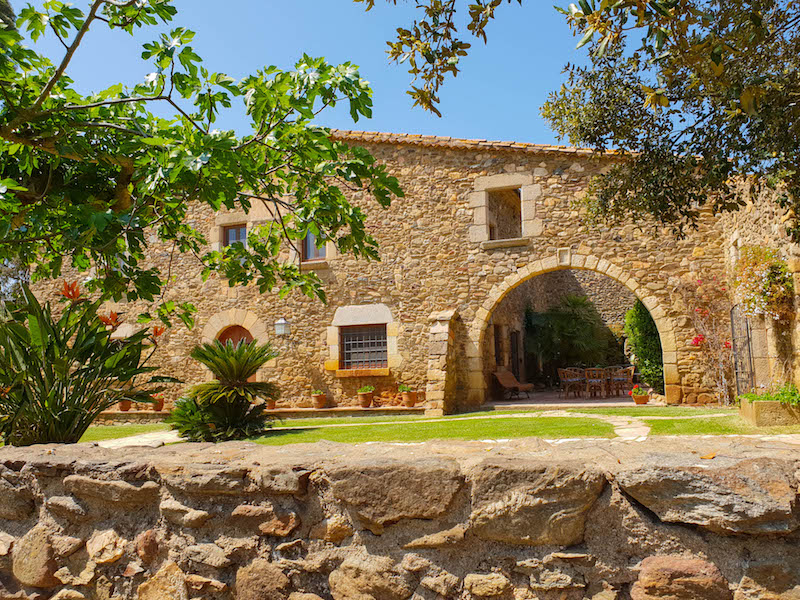 Can Marc In Palamos
Mas Can Pagès at El Celler d'en Marc in Palamós was opened by two Belgians with a passion for wine moved to Empordà for a change of pace. They became one of the newest DO Empordà wineries when the land, as Marc says, pulled at their hearts. The modern nature of the winery is offset by the painstaking restoration of the historic masia, a farmhouse dating to around 1320.
Marc and Lut restored the masia to a very high standard while incorporating traditional Catalan furniture and details. The casa rural is supported by fruits and vegetables from their own garden. There are a pool and an outdoor grill they use in the summer for wine dinners.
Rooms from €135 a night. Check rates here.
Check For Rates Here
Boutique Hotels in Lloret de Mar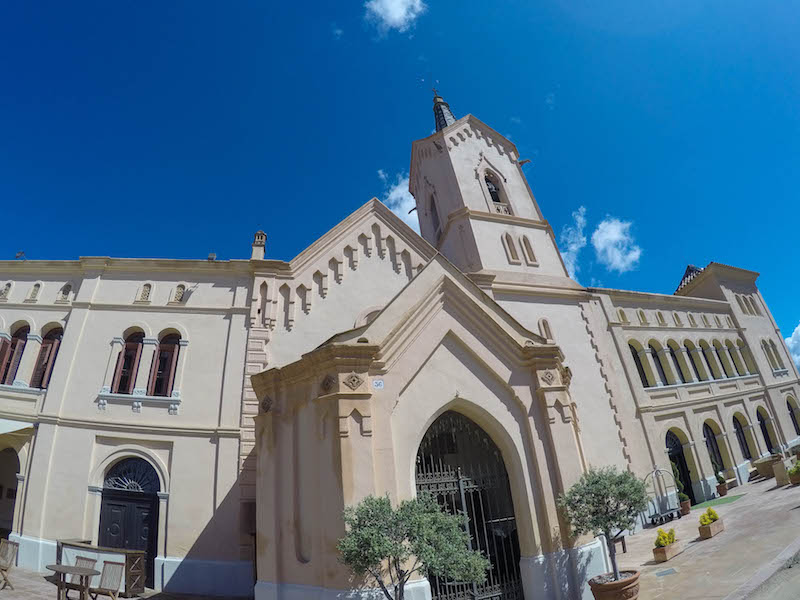 Hotel Sant Pere del Bosc Lloret de Mar Hotel
Hotel Sant Pere del Bosc sits atop a hill near the Sant Pere del Bosc Shrine providing its guests with stunning views of the Mediterranean Sea. Once a 9th-century Benedictine monastery, the luxury property is now home to 27 individually designed and decorated rooms and suites. It sets the standard for Lloret de Mar 5 star hotels.
Each air-conditioned suite and room at Sant Pere del Bosc Hotel features free Wi-Fi and a flat-screen TV. All suites include a small seating area with a sofa and an elegant bathroom.
On the property guests will find an outdoor saltwater pool, spa offering over 20 different treatments and a restaurant serving up locally produced organic dishes. Hotel Sant Pere is located 6 km from Lloret de Mar.
Rooms at Hotel Sant Pere begin at €190 including breakfast and parking. Book here.
Check For Rates Here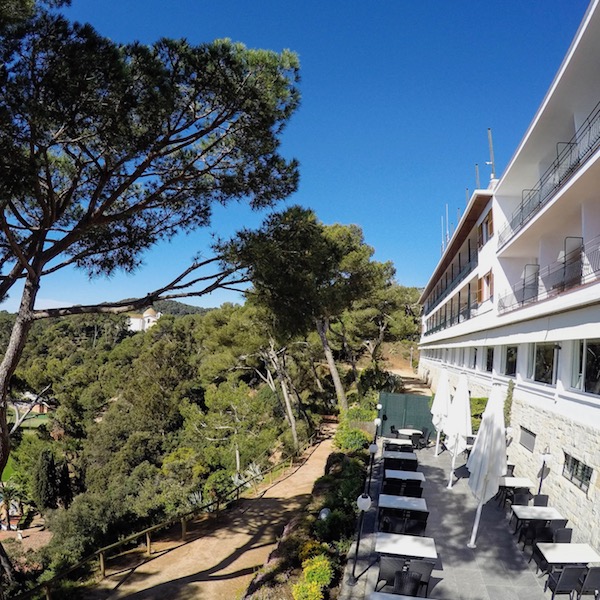 Santa Marta Hotel Lloret de Mar
Situated in one of the most beautiful sections of the Costa Brava, Hotel Santa Marta starting welcoming generations of guests over 60 years ago. It is also one of the top hotels in Lloret de Mar.
Located on the edge of the Santa Cristina beach, just outside of Lloret de Mar, Hotel Santa Marta is more than just a place to spend the night. Facing the blue waters of the Mediterranean Sea, the hotel is only 200 meters from its own private beach.
Rooms at Hotel Santa Marta feature either sea or forest views. From Double Rooms to Family Room, the hotel offers a wide range of accommodation options. It's also a perfect family hotel in Lloret de Mar.
All rooms include air conditioning, flat-screen TV and free wifi. Outside the main hotel building is a full equipped four bedroom villa. Guests will find a full service spa, outdoor pool and a wide range of activities.
There is a catamaran that can transport guests to the centre of Lloret de Mar.
Rooms at Hotel Santa Marta start at €150 including free parking. Breakfast can be added for €20. Book here.
Check For Rates Here
Boutique Hotels In Girona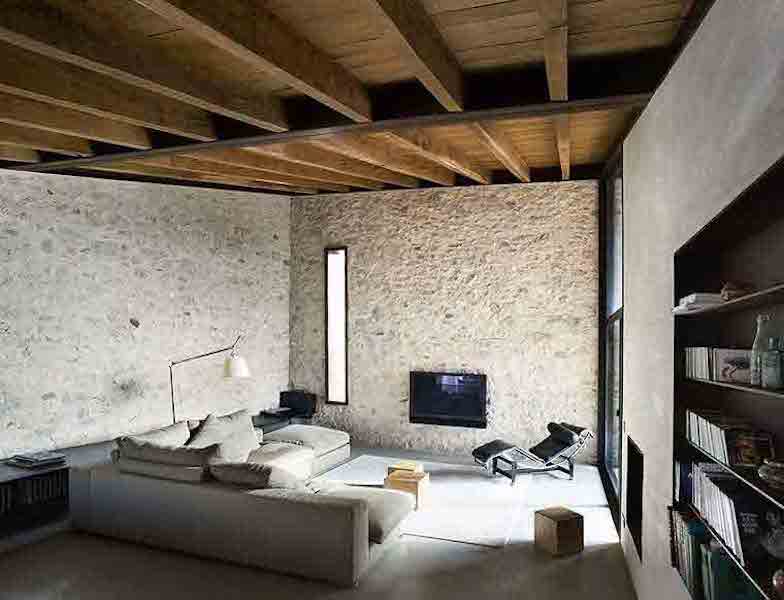 Nord 1901 Girona
Nord 1901 Girona in City Center: Offering the only hotel garden and swimming pool in the city center, Hotel Nord Girona is a recently renovated historic Catalan building. The hotel also offers one and two bedroom apartments in nearby buildings. All are set in the center, across the river from the Old Town, but just minutes to the main sites.
Rooms start at €90 a night. Check rates here.
Alemanys 5
Alemanys 5 in Barri Vell: High in the hills of Girona, behind the Cathedral, set amidst the medieval quarter are a handful of hotels and apartments, but one stands out. Alemanys 5 offers two luxury apartments in a renovated 15th Century building. A space filled with contemporary and luxury furnishings, it is perfect for groups or families.
Alemanys 5 includes a two-bedroom apartment on the first floor, with a small plunge pool, and a three-bedroom, two-level apartment above, with a balcony large enough to host a cocktail party. The two apartments can be rented together to sleep up to 10 people. The owners are architects and lovingly restored the building to a high standard.
Rates start at €225 per night for two people, and minimum night stay requirements increase during the peak season. Check rates here.
Get The best rates on costa brava boutique hotels on booking
FAQs – Boutique Hotels In Costa Brava
Do any luxury hotels in Costa Brava have a pool?
Yes. Several luxury hotels in Costa Brava have pools. One of the nicest is Hotel Spa Terrazza in Roses. The hotel has two pools in fact, one on the roof with stunning views of the sea.
What are the best luxury hotels in Costa Brava?
One of the best luxury hotels in Costa Brava is Hotel Peralada. The hotel features a one star Michelin restaurant, a world-class golf course, and its own winery.
Are hotels in Costa Brava expensive?
The Costa Brava offers a wide range of accommodations. You will find 3-star hotels up to luxury hotels in Costa Brava. On average, a 3-star hotel in Costa Brava will cost around $150/night. Luxury hotels in Costa Brava will cost $400-500/night.