Many travelers to the Costa Brava start or end their journey in Girona, and it's no wonder. Here, we provide recommendations for some of the best Girona hotels. Girona does not offer a lot of chain hotels. Instead, boutique hotels and vacation rentals are the norms. Because it can be hard to find the perfect Girona hotel for a Costa Brava holiday, below is a list of what we consider to be the best hotels in Girona Spain.
*This post contains compensated links. Find more info in my DISCLAIMER.
Where is Girona Spain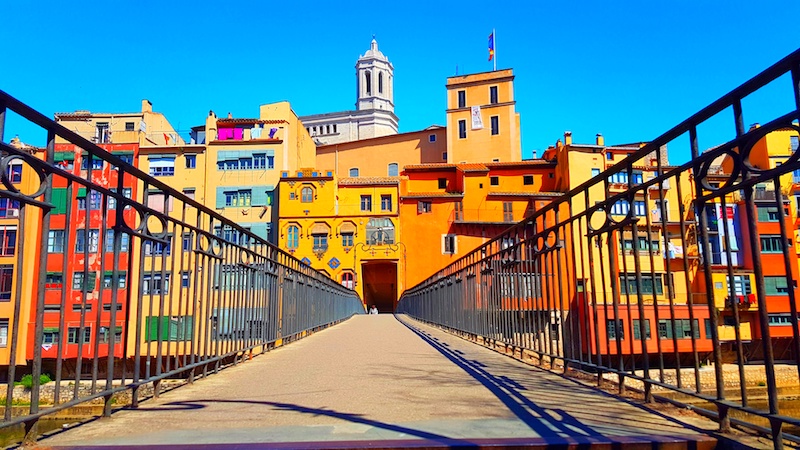 Girona lies at the confluence of two rivers, the River Ter to the west, and the River Onyar, which divides the main part of the city. East of the River Onyar is Barri Vell, or the Old Town. Barri Vell's riverfront is flanked by three and four-story, brightly painted buildings, which feature prominently in traveler's photos.
On the west bank of the River Onyar is the more commercial City Center, and spreading south from there is the City Center Migdia. West of the City Center is the large Parc de la Devesa, which hosts a large public market Tuesday and Saturday mornings.
Barri Vell In Girona
Most of the tourist sites focus on the medieval parts of town in Barri Vell. The River Onyar offers a half dozen unique bridges to cross, allowing travelers to wander in and out of Barri Vell, past museums, restaurants, bars, and cafes, with plenty of shopping as well.
Most notable of the bridges are the old stone bridge, along with a red bridge that looks a little like a horizontal version of the Eiffel Tower. And, that's because Mr. Eiffel designed it himself.
Overlooking the entire city is the Girona Cathedral, dedicated to Santa Maria, which offers Romanesque and Baroque architecture. Just below it is the Basilica de Sant Feliu, and a statue of a lion that you might see tourists and children kissing, for good luck. Just across the bridge from the Basilica is the Plaça de la Independència, filled with cafes and restaurants set under historic porticos.
And, with so much food and wine to drink during a tour of the Costa Brava, Girona offers a perfect mix of city life and nature, with plenty of biking and walking tours spreading out from the city center. The Girona tourism office offers maps of walking trails.
Check out the reviews for the Best Hotels in Girona on Tripadvisor – Girona Hotels
Where to Stay in Girona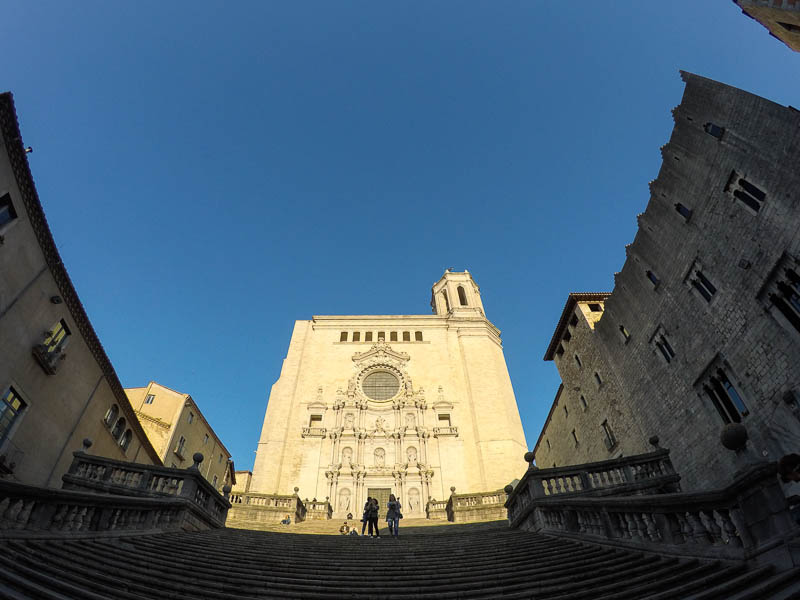 There are a handful of chain hotels in Girona, including a Double Tree by Hilton Girona, a Hotel AC Girona by Marriott, a Hotel Melia Girona, and two Hotel Ibis Girona properties. But, for the most part, Girona offers historic or boutique hotels, as well as apartment rentals.
There is some romance to staying in Barri Vell, but most of the area is pedestrian only, or at least unfriendly to cars. If renting a car, it might be better to stay in the city center to avoid driving through some of the more narrow medieval alleyways that make Barri Vell so pretty. There are a handful of public lots on the outer edges of the city center, some with parking as low as €8 a day. There are two such lots near the train station.
Also, if staying connected via WiFi is a concern, the city center is more connected, as many cell phones don't make it through the thick, medieval stone walls of Barri Vell.
Hotels in Girona Old Town – Barri Vell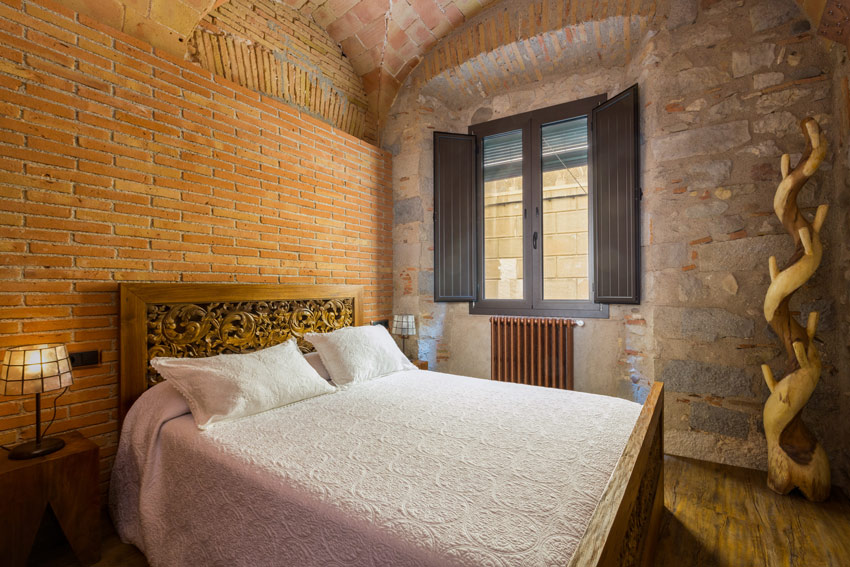 Hotel Historic In Girona
Hotel Històric Girona in Barri Vell: Set steps away from the Girona Cathedral, part of the building dates to the Roman era, others to the 8th and 9th centuries. Historic indeed. The hotel offers eight rooms, and they offer seven one and two bedroom apartments.
Rooms start at €115 per night. Check rates here.
Hotel Bellmirall Girona
Hotel Bellmirall Girona Pensió B&B in Barri Vell: Bellmirall offers seven rooms, some with shared bathroom, in a historic three-story home near the Girona Cathedral. Guests can access the shared spaces, decorated with unique artwork, including a peaceful patio that is often coveted by travelers walking by.
Rooms start at €80 a night. Check rates here.
Hotel Legendes Girona
Hotel Legendes Girona Spain in Barri Vell: A hotel claimed to be the home of Saint Narcís, the patron saint of Girona, in 304 A.D. They offer rooms, some of which are named after Girona legends, along with a cocktail bar and a dedication to "romance."
Rooms start at €120 a night. Check rates here.
Hotels in Girona City Centre – Migdia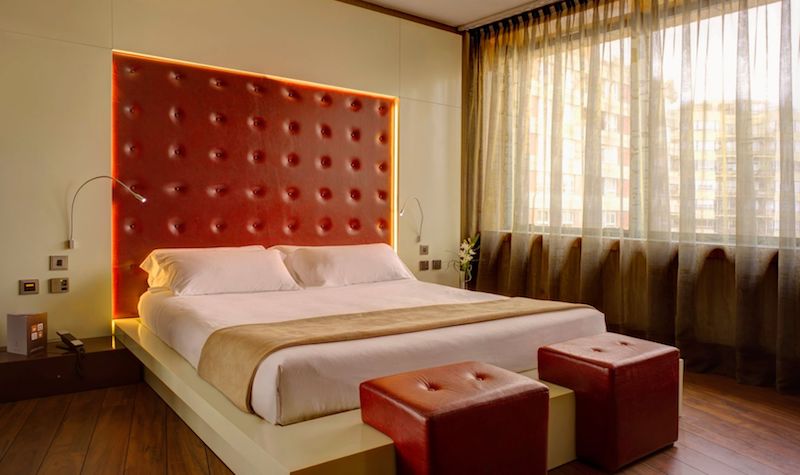 Hotel Carlemany Girona
Hotel Carlemany Girona in City Center Migdia: Carlemany Hotel Girona is in the more commercial center of town, and away from the tourist area, but only a five-minute walk to Barri Vell. With a cafe and restaurants overlooking the square, and artwork filling the interior, it is a convenient option outside of the Old Town. It is also one of the largest hotels in the city. Chef Xavier Arrey's Restaurant El Pati Verd offers a fine dining lunch during the week in a unique indoor "garden" space.
Rooms start at €80 a night. Check rates here.
Nord 1901 Girona
Nord 1901 Girona in City Center: Offering the only hotel garden and swimming pool in the city center, Hotel Nord Girona is a recently renovated historic Catalan building. The hotel also offers one and two bedroom apartments in nearby buildings. All are set in the center, across the river from the Old Town, but just minutes to the main sites.
Rooms start at €90 a night. Check rates here.
Gran Ultonia Hotel Girona
Gran Ultonia Hotel Girona in City Center: Situated in the central business district, but still just a few blocks from the historic center of Girona, Hotel Ultonia Girona is a pleasant, contemporary, and reliable option. During summer months the Girona Hotel Ultonia opens a roof-top cocktail bar at night with views over the city.
Rooms start at around €70 a night. Check rates here.
Girona Apartments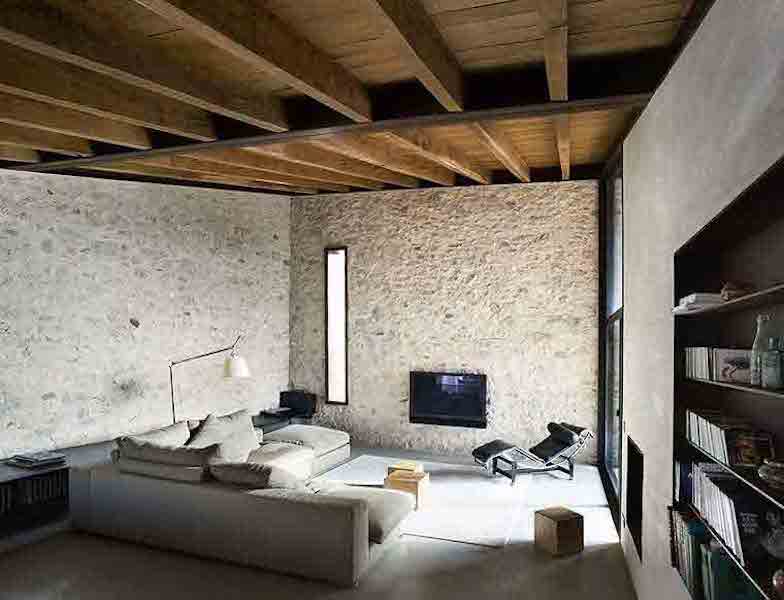 Alemanys 5
Alemanys 5 in Barri Vell: High in the hills of Girona, behind the Cathedral, set amidst the medieval quarter are a handful of hotels and apartments, but one stands out. Alemanys 5 offers two luxury apartments in a renovated 15th Century building. A space filled with contemporary and luxury furnishings, it is perfect for groups or families.
Alemanys 5 includes a two-bedroom apartment on the first floor, with a small plunge pool, and a three-bedroom, two-level apartment above, with a balcony large enough to host a cocktail party. The two apartments can be rented together to sleep up to 10 people. The owners are architects and lovingly restored the building to a high standard.
Rates start at €225 per night for two people, and minimum night stay requirements increase during the peak season. Check rates here.
Girona Resorts
PGA Catalunya Resort and Hotel Camiral Girona in Caldes de Malavella: A destination in its own right, sitting just south of Girona, and close to the airport. The hotels of PGA Catalunya Resort, and the luxurious Hotel Camiral, offer complete luxury during an ideal golf retreat on a PGA course. But, the property also offers top-notch dining, spa, and wellness, and rumor has it that a vineyard and winery are in the works.
If you truly fall in love with the Costa Brava, you can also invest in an apartment or villa on the PGA Catalunya property.
Rooms at Hotel Camiral start at €200 a night, whereas two-bedroom villas at the PGA resort start at €450 for three nights. Check rates here.
*This post contains compensated links. Find more info in my DISCLAIMER.
Get the best rates on booking.com
Pin It! The Best Hotels in Girona Spain