Whether staying in Girona or visiting on a day trip from Barcelona to Girona, there are plenty of things to do in Girona. We include suggestions for various tours for culinary travelers or cultural travelers, as well as recommendations on where to stay in Girona and where to eat in Girona.
Top Girona Attractions
Some of the top Girona attractions and things to see in Girona are historic landmarks.
One of the top things to do in Girona must include a visit to the Girona Cathedral, a Cathedral dating to the 15th Century. Learn more about the Girona Cathedral and how to visit it here. Take in a coffee or a juice at the cafe at the bottom of the steps and enjoy watching all of the travelers, and even locals, climb the steps to the top.
On a nice day, take a walk along the old stone walls. The Girona wall offers not only a little bit of a work out with quite a number of stairs, but also provides a birds-eye view over Girona and to the mountains in the distance. Learn more about the Passeig de la Muralla.
The River Onyar winds its way through the center of Girona. A wonderful way to spend an afternoon is to wander through Barri Vell, or the Girona Old Town, by crossing each of the many famous bridges in Girona. This includes the Eiffel Bridge, designed by Mr. Eiffel himself.
Other Girona Things To Do
There are a lot of ways to experience Girona with a local expert. There are Girona tours to fit every budget and every interest. These tours are great to help new visitors to Girona because there's so much history in this amazing city, and it helps to have an expert who can share all of this information.
Take a Girona Walking Tour
Girona is not a city that many people know much about. One of the best ways to learn about the city is to take a Girona walking tour. There are different tours available depending on your interests, budget, and how much time you have to spend exploring Girona. This Small Group Walking Tour offers an intimate look at Girona and its history.
Take a Girona Food Tour
If you travel on your stomach, then Girona is the destination for you. Taking a Girona Food Tour is a great way to learn more about the city, its history, and it's an amazing Catalan food tradition. This full-day tour also explores some of the top historic sights in the city.
Girona Tour: Game Of Thrones in Girona
If you love Game of Thrones, then Girona is the perfect place to walk in the footsteps of your favorite family. They filmed parts of Game of Thrones Season 6 in Girona.  This Girona Game of Thrones Tour will take you behind the scenes and uncover all of the secret filming locations. There is even a restaurant where you can dine outdoors on the "Game of Thrones" steps.
Explore Girona's Jewish History
Girona has a long history of Jewish culture and heritage. There are a Jewish Quarter and Jewish history museum, and one of the hills overlooking the city is even referred to as Montjuic, after the ancient Jewish population. This Private Jewish History Tour explores this unique aspect of Girona history and includes a visit to nearby Besalu as well.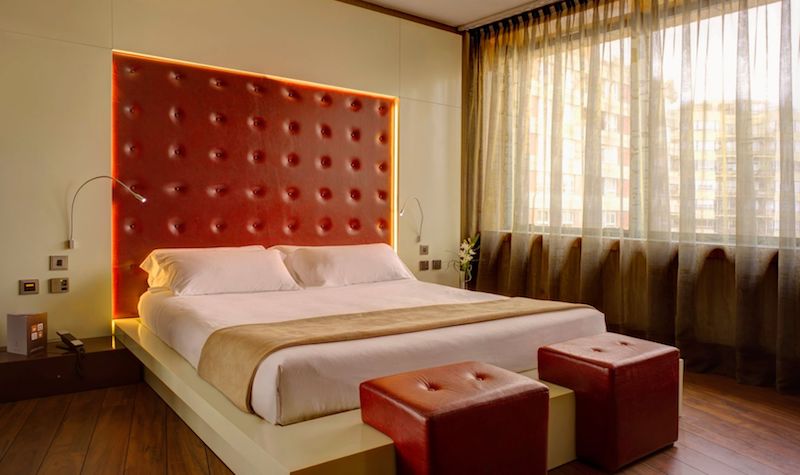 Where to Stay in Girona – City Center
Hotel Carlemany Girona in City Center Migdia: Carlemany Hotel Girona is in the more commercial center of town, and away from the tourist area, but only a five-minute walk to Barri Vell. With a cafe and restaurants overlooking the square, and artwork filling the interior, it is a convenient option outside of the Old Town. It is also one of the largest hotels in the city. Chef Xavier Arrey's Restaurant El Pati Verd offers a fine dining lunch during the week in a unique indoor "garden" space.
Rooms start at €80 a night. Check rates here.
Nord 1901 Girona in City Center: Offering the only hotel garden and swimming pool in the city center, Hotel Nord Girona is a recently renovated historic Catalan building. The hotel also offers one and two bedroom apartments in nearby buildings. All are set in the center, across the river from the Old Town, but just minutes to the main sites.
Rooms start at €90 a night. Check rates here.
Gran Ultonia Hotel Girona in City Center: Situated in the central business district, but still just a few blocks from the historic center of Girona, Hotel Ultonia Girona is a pleasant, contemporary, and reliable option. During summer months the Girona Hotel Ultonia opens a roof-top cocktail bar at night with views over the city.
Rooms start at around €70 a night. Check rates here.
*This post contains compensated links. Find more info in my DISCLAIMER.
Get the Best Rates For Girona Hotels Here